Festa Italiana will host special one-off events at the Festival Piazza – a chance for ticket holders to experience a unique Italian dining adventure right in the heart of the city centre.
Saturday 27th July
Salvi's & Tre Ciccio Present: 'Suburbia meets City Centre' Banquet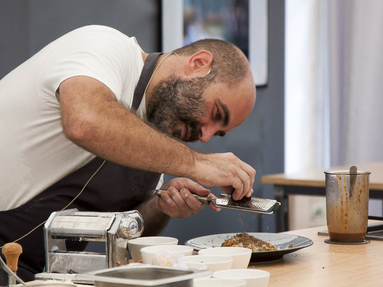 For 2019, we're hosting the first ever 'Suburbia meets city' banquet. Designed to showcase the finest Italian food, created live by two of the region's most talented chefs, it will be hosted by food critic, broadcaster and tour guide Jonathan Schofield, on Saturday 27th July in the Festa Marquee right in the heart of the Festival action on Cathedral Gardens. This special Festa Banquet will see the talents of two of Greater Manchester's most renowned Italian chefs Francesco Scafuri from Tre Ciccico who has restaurants in the Manchester suburbs of Bramhall, Altrincham and Ramsbottom; and Maurizio Cecco, owner of Salvis, showcase their skills and knowledge to create the ultimate Neapolitan banquet. The night promises to be jam packed with anecdotes; extraordinary, authentic food; live Neapolitan music and great conversation between the two chefs.
£50 per person
Book tickets